LABRADOODLES FOR SALE
Last Updated on Monday, 10 February 2020.
We are a licensed Domestic Animal Business with over 25 years of experience breeding non-shedding family companion dogs. We comply with the relevant Victorian government legislation. Licence/permit numbers, South Gippsland Shire BDBUS203 and Wellington Shire WSC392015
All puppies sold are desexed, microchipped, vet checked, vaccinated, wormed and guaranteed.
Our bloodlines are DNA tested to be free of genetic diseases including PRA and many more.

We expect another litter of non shedding True Labradoodles to be born in 6-8 weeks time. In chocolate, chocolate parti and cream colours.
Bushfires: We and all of our animals are safe and located a long way away from any threat of bushfire.
It is business as usual here.
Our thoughts go out to anyone affected by the fires and our thanks to the firefighters and volunteers doing their best to manage the situation.
Malibu's Non Shedding Small Standard Labradoodle Puppy
Non Shedding Small Standard Labradoodle Puppy
---
Photos Coming Soon
---
Non shedding 6th generation multi generational small standard Labradoodle puppies.
1 chocolate parti male available.
2 weeks old.
Ready for their new homes mid March.
Call or email us for more info or to place an order.
Wellington Shire WSC392015 Source number BR101400
Related Links:
Pictures of Labradoodle Puppies
Labradoodle Pictures
Parti Labradoodle Pictures
Labradoodle Information
Parti Labradoodle Information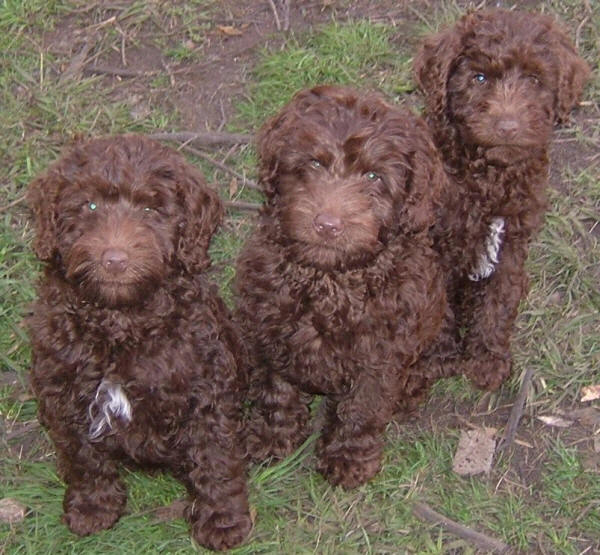 Cute little chocolate labradoodle puppies in the yard