LABRADOODLE INFORMATION
The Labradoodle is a cross between a Labrador and a Poodle. The Poodle is renowned for its high intelligence and non shedding wool. The Labradoodle inherits the most desirable characteristics of it's forbears, with the smart placid easy going nature of a Labrador & the intelligence of a Poodle which has a wool coat and is non shedding. We use proven pedigree parents to ensure our dogs are free of genetic disorders. Life expectancy is 12 - 16 years.
Valley View True Labradoodles
We are one of the rare Labradoodle breeders that still breed True/Real Labradoodles. Our Labradoodles only have Labrador and Poodle DNA, there are no other breeds are mixed into our Labradoodle lines. At Valley View we don't take short cuts by adding Spoodles, Cocker Spaniels, Golden Retrievers, Wheaton Terriers etc to get different colours or sizes of Labradoodles. It has taken us 18 years of quality breeding to get non shedding Parti Labradoodles, Toy Labradoodles etc and it is done by persistence, not by using other breeds or taking short cuts for a quick dollar. A lot of Labradoodle association breeders have allowed and used several different types of dog breeds in their lines of Labradoodles. By adding all these different breeds (Irish Water Spaniel, Curly Coat Retriever, American Cocker Spaniel, English Cocker Spaniel, Wheaton Terrier, Portuguese Water Dogs, Spoodles, Groodles and other breeds they don't tell you about) into their Labradoodles they have added all the different genetic problems of each breed into their lines. A True/Real Labradoodle has only Labrador and Poodle DNA and nothing else in it's breeding, that is what a Labradoodle should be. What is generally known as an "Australian Labradoodle" is really a mix of many breeds, which is not necessarily desirable.
Labradoodle Sizes
There are 4 sizes of Labradoodles we breed.
TOY LABRADOODLE

Height at the shoulder: 20-30 cm (8-12 in)
Weight: 3-6 kg (6-13 lb)
MINIATURE LABRADOODLE

Height at the shoulder: 30-40 cm (12-16 in)
Weight: 6-12 kg (13-26 lb)
MEDIUM LABRADOODLE

Height at the shoulder: 40-51 cm (16-20 in)
Weight: 12-23 kg (26-50 lb)
STANDARD LABRADOODLE

Height at the shoulder: 51-66 cm (20-26 in)
Weight: 23-45 kg (50-100 lb)
Labradoodle Colours
We specialize in chocolate and parti Labradoodles but also breed white, cream, golden, black, silver, café, phantom and caramel Labradoodles. We are the first parti Labradoodle breeders in Australia. Labradoodles eyes are coloured from dark brown to a golden hazel.
Labradoodle Temperament
Labradoodles are the ultimate family companion, loving and kind with children, intelligent with adults, patient and devoted to the elderly and are sociable with other animals. Labradoodles are always eager to accompany you for a walk or bike/horse riding but are equally as happy receiving pats or snoozing close to you. Running, fetching the ball, swimming, cuddles and stretching out for a nap are some of their favourite pastimes.
Labradoodle History
The first Labradoodle litter was bred in Australia in 1989 by the Guide Dogs Victoria (GDV) who were looking for a non shedding guide dog for a woman named Pat Blum who had lived with a vision impairment but had not applied for a Guide Dog because of her husband Rich's allergy to dogs. When GDV agreed to breed the first litter of Labradoodles in an attempt to lessen the likelihood of allergic reactions, Pat was overjoyed.
Sultan and his litter mates Sheik and Simon were bred by Wally Conron in 1989 by mating a standard poodle called Harley and a Labrador called Brandy. It is important to note many early generation Labradoodles are not non shedding. Sheik and Simon's fur samples repeatedly caused allergic reactions while even Sultan's adult coat caused no reaction at all. Sultan turned out to be perfect for Pat and Rich and he was an exceptional Guide Dog even capable of climbing ladders.
Support Guide Dogs Victoria
The 'Labradoodle' name was thought of in an attempt to find new homes for Sheik and Simon and after an ad in the Newspaper, Guide Dogs Victoria's phones rang hot.
Since then the Labradoodle has become a very popular family pet in Australia and around the world. We are one of the original Labradoodle breeders and have been breeding them since 1993.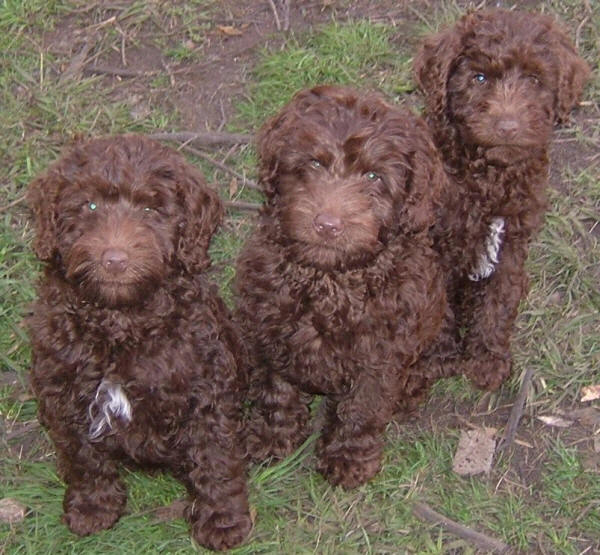 Related Links:
Labradoodle Puppies For Sale
Pictures of Labradoodle Puppies
Labradoodle Pictures
Parti Labradoodle Pictures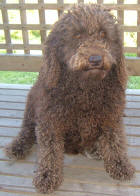 Chocolate Labradoodle - Aliza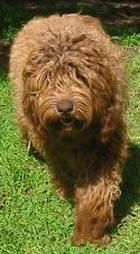 Cafe Labradoodle - Lilly
Parti Labradoodle - Hansel
Chocolate Labradoodle - Leigha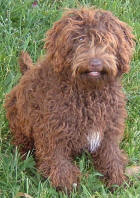 Chocolate Labradoodle - Mishka

Labradoodle Puppies